Click on the link below to see a short film of what we got up to with children and staff from Anderton Park:
We began our first Secret City Project with a training day for the staff at the play scheme. The day was designed to share skills with the staff and provide an introduction to the project. All artists and staff took part in each of the workshops. There was a great deal of positive creative energy and some wonderful outcomes.
We then spent 6 packed days together, inspired by our field trip to Digbeth and Waseley Hills Park. We wanted to follow the journey of the River Rea as it runs through Birmingham and out into the countryside. We found out that in Birmingham city centre the river is hidden underground and behind walls and doors. We had to look really hard to find it!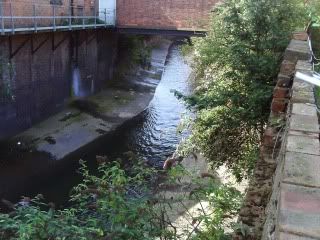 Then we went on to find the source of the River Rea, at Waseley Hills Park. We listened carefully to the sounds around us, sounds made by nature, machines and of course humans. We made our own sound recordings, and wrote about some of the things we discovered on the way. We filled our sketch books with tiny samples of the different colours we could see around us, and began to think about what our masks might be like…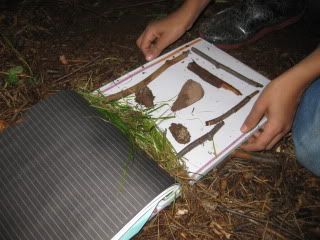 Lots of ideas developed from here! The mask makers created a troll mask, inspired by the Bridge in Digbeth, a spider creature and several quite fierce looking leafy woodland creations.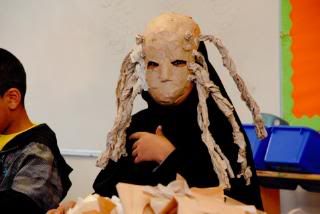 The River Rea inspired all kinds of imaginary watery monsters that came to life through animation and sound. We learnt how to create collages with our sound recordings using a piece of software called 'Audacity'. We cut up our sounds and mixed them together. We even designed our own imaginary and sometimes rather scary sounds to represent our river monsters! You can listen to our sounds in the final videos later in this blog.
Here we are making papier mache for the set of the River Rea in Digbeth: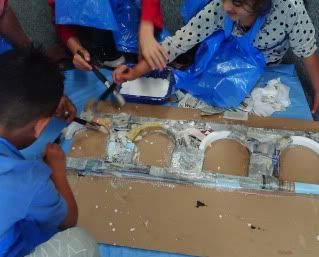 It was pretty messy……but look how it turned out!
Our writers imagined what the River Rea might say if it could speak…
'River of Voices'
'I am the River Rea. My source is a boggy swamp at Waseley Hills, where people cup their hands to drink my fresh water. I flow through country hills, grass, trees and rocks… on and on into the city. I flow under bridges, between houses, cars and schools. In Digbeth my water is green and black. I feel sad when people drop litter in me.
When I flow underground I feel out of breath, as if I will never see the light again. It feels like an earthquake as the traffic rushes above me. When I reach the surface again I feel free.
I flow through Spaghetti Junction, and join a bigger river, the Tame, and then the Trent. I am re-united with old and new friends, and together we flow out into the salty sea.'
The masks came to life in a performance with specially created sounds and forest voices!
Everyone was really pleased with the videos they created!
Digbeth Monster Life
Waseley Monster Life
Monsters!
We proudly shared everything we had made during the week to a packed audience of friends and family. A great end to all our explorations! And last but not least, here's part of another poem – everyone contributed ideas and words to complete it – and performed it with gusto at our final magnificent multi-media performance!
Along Digbeth, Deritend, Birmingham, Brum,
buses rumbling, lorries grumbling, cars brumming, taxis humming
along yellow sparkly double yellow lines,
along Digbeth, Deritend, Birmingham, Brum.
Behind Digbeth, Deritend, Birmingham, Brum,
in Floodgate Street, high arches like dark rainbows.
Peep through the red door, key holes, locked gates,
behind Digbeth, Deritend, Birmingham, Brum.
Beneath Digbeth, Deritend, Birmingham, Brum,
a secret garden, black-grey-pink-green pigeons
and a secret river flowing by a broken boat,
beneath Digbeth, Deritend, Birmingham, Brum.
Come down to Digbeth, Deritend, Birmingham, Brum!
With thanks to Kate Beatty for taking all these photos, and to all the support staff for joining in so enthusiastically!